At Diamond Schmitt, we aim to empower our people to realize their potential in a dynamic studio environment that fosters continuous learning and professional development.
Fuelled by a culture of collaboration and inclusivity, we are looking for individuals whose backgrounds, skill sets, and experiences are as diverse as the projects we work on and the communities we engage in to join our team and contribute to the ongoing creative conversation.
If you have the courage to be bold, the passion to design authentic, socially-conscious spaces, and can demonstrate integrity in the workplace, then we want to hear from you. 
All current job openings will be posted here. Please apply by sending your application to: hr@dsai.ca.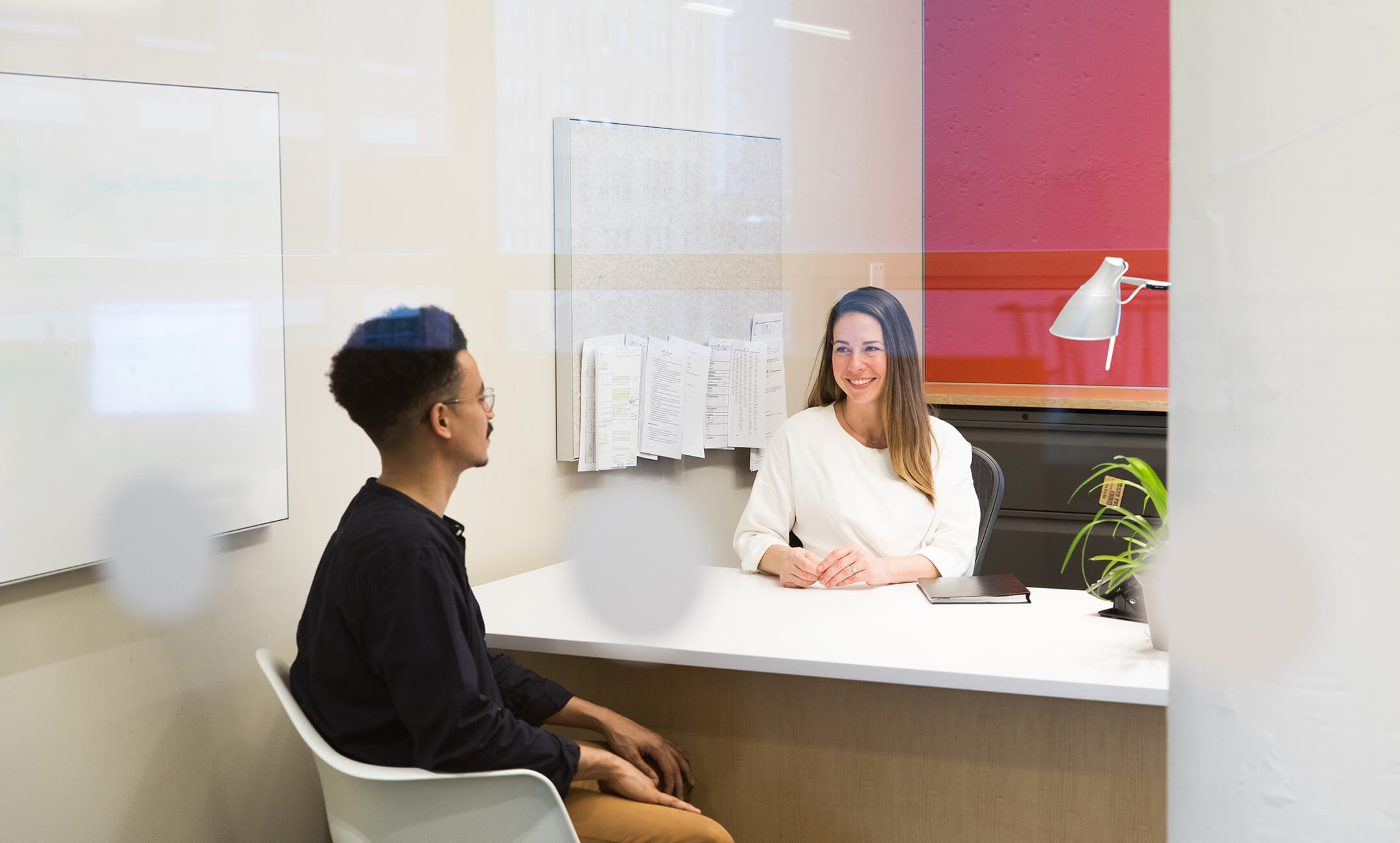 We are looking for a Contract Administrator with expertise in the review and resolution of construction claims.  The successful candidate will contribute their outstanding skills to the design and execution of a wide variety of projects.  They will work closely with principals, associates and architects in a collaborative studio environment to review construction schedules and claims, provide advice to other contract administrators and owners regarding construction contracts, and lead negotiations between clients and contractors.
Key Responsibilities
Review and provide advice regarding project schedules, review construction claims and prepare written responses to owners, provide advice regarding current construction law, and support other contract administrators in the review of potential construction claims.
Provide construction administration functions to projects, including both office functions (certificates of payments, preparation of CO's PC's, CD's etc.) and field functions (attendance at site meetings, preparation of site instructions, field review reports, etc.)
Organize, direct and manage contract administration for projects
Implement the project in consultation with the project team
Supervise the work effort on assigned projects
Work in a collaborative team environment, primarily in construction administration with involvement as required in other aspects of design including pre tender document review
Report to the project architect on a regular basis outlining status of job cost control and scheduling issues including general progress and time management issues
Act as a mentor to junior architects and contract administrators
Qualifications
Professional degree in architecture or engineering with membership in the Ontario Association of Architects
Evidence of substantial continued education in the fields of construction administration and construction law
Proven experience in review and negotiation of construction claims
Certified Construction Contract Administrator (CCCA) designation
Knowledge of MS Project or Primavera is essential
Knowledge of Bluebeam, Statslog, Revit and Autocad is a definite asset
12+ years experience required
Mixed – use and healthcare project experience
Thorough knowledge of OBC and standards used in the Canadian construction industry
We are looking for an environmentalist to join our practice. The successful candidate will show expectational initiative and enthusiasm to make the world a better place through design, with a demonstrated passion for the environment.
Environmentalism is a design issue. Our approach to architecture is motivated by the people we serve, and their aspirations. The welfare of humankind is undeniably linked to the health of our planet, and through our designs, our goal is to make our buildings give more than they take. The Environmental Director is a design-oriented, senior level leadership position that drives strategy, education, and analysis to benefit our projects.
The Director will refine and execute a plan to advance specific environmental objectives within our practice. Reporting to the leadership group, the Director will collaborate directly with project teams, and will coordinate the efforts of the Sustainability Committee.
Location:
The Director position will be engaged in our Toronto, Vancouver, Calgary, and New York studios. Ability to travel between the studios is essential.
Please send your resume and examples of your work to hr@dsai.ca. 
We thank all applicants who have applied however only those selected for an interview will be contacted. Depending on response, the job description may be altered.
Diamond Schmitt Architects encourages and welcomes applications from people with disabilities. Accommodations are available upon request for candidates in all aspects of the selection process
Diamond Schmitt Architects has built an international reputation for design excellence across a range of building types. From opera houses, libraries and laboratories, to residential, office, academic and healthcare projects, our award-winning design firm strives to exceed clients' expectations.
The company is motivated by positive social outcomes, and has a record of innovation and achievement in sustainable design, with a growing list of net-zero energy projects, zero-emissions, passive house, and LEED certified buildings. Diamond Schmitt has undertaken pioneering work with EcoMetrics (our in-house performance analysis tool and database), the integration of Plant Wall biofilters, and comprehensive sustainability at the building and campus scale. We embrace increasingly demanding environmental goals in what are often the most challenging building types. Design thinking that presents a strong sense of context, integration with the public realm, and a social motivation distinguishes the studio's work, for which Diamond Schmitt is known and respected as a leading architecture practice across Canada and abroad.
The firm's design sensibility is matched with a successful business model that positions it among Canada's Top 100 Employers, GTA's Top Employers, and Canada's Best Managed Companies™. More than 275 people work in the company, with offices in Toronto, Vancouver, and New York City.
Key Responsibilities
Support project teams to advance environmental performance of our projects.
Develop and deliver an internal education program that increases overall awareness of environmental issues, performance standards, codes, and tools as they relate to our practice.
Evaluate opportunities for external training for staff.
Prepare key messages and briefings for leadership.
Evaluate and advise on software tools to aid project teams. (i.e. CoveTool, EC3, Tally, climate analysis, computational aids, etc.).  Coordinate with IT / Design Applications Manager.
Support marketing efforts through writing, graphics, and statistics to advance initiatives and project pursuits.
Attend interviews where required.
Lead the application of EcoMetrics (our in-house performance analysis tool and database), and coordinate with project teams to collect and share data.
Educate and advise on relevant performance standards, including Passive House, LEED, Zero Carbon Standard, WELL, Living Building Challenge.
Maintain and manage memberships with CaGBC, Passive House Canada, etc.
Collaborate to prepare predesign reports for projects, facilitate analysis, help set goals and strategy, undertake research.
Encourage and support staff to take on roles that advance environmentalism.
Evaluate our office operations as they relate to sustainability.
Prepare and coordinate submissions for environmental-focused awards.
Develop and/or assist staff to prepare presentation material intended for conferences.
Seek opportunities to present our work to targeted audiences.
Seek opportunities to develop project-based research in the practice.
Monitor sponsorship opportunities.
Pursue opportunities for research funding to suit project initiatives.
Prepare presentations, workshops, or other material to share environmental themes for our clients.
Qualifications
Architecture, Engineering, Building Science, Environmental Design, or related professional degree.
Licensure as an Architect or Professional Engineer is an asset, but not required.
Two or more of the following accreditations (or commitment to achieve within a year):

LEED Green Associate or LEED Accredited Professional
Certified Passive House Designer or Consultant recognition
BREEAM Accredited Professional
WELL Accreditation
Living Future Accreditation
Experience
Minimum 10 years relevant work experience, ideally in an environment of design excellence.
Project management and the successful implementation of new processes or practices.
Implementation of initiatives that have directly influenced practice, specifically environmental and sustainability practices.
Leading and managing staff in teams and committee work.
Conducting research, preparing presentations, and sharing findings with professional audiences.
Required Skills
Demonstrated ability to work independently with a high degree of initiative, superior organizational and project management skills, ability to manage conflicting priorities and deadlines.
Familiarity with project specifications, architectural drawings, and building construction.
Ability to think critically and strategically, and be able to conduct self-directed research and analysis.
Excellent communication skills (written and oral).
Ability to work and collaborate effectively and seamlessly through virtual means.
Familiarity with the US and Canadian LEED Green Building Rating Systems, Living Building Challenge, Passive House, WELL Building Standard, and other sustainable design rating systems, performance tools, and leading civic, provincial and federal green building policies (i.e., Toronto Green Building Standard, BC Energy Step Code).
Proficiency with relevant software applications, including Word, Excel, PowerPoint, Outlook, Adobe Acrobat, InDesign. Familiarity with Revit and Rhino is desirable.
Ability to work collaboratively with team members.
Ability to collaborate with senior leadership to influence design.
We are looking for a General Accountant with 2 to 3 years' experience working within an accounting department or post-secondary education, advanced Microsoft Excel skills, and strong time management. This role is located in our Toronto office and will have a hybrid work schedule of 3 days in-office and 2 days remote work.
Key Responsibilities
Maintaining accounts receivables including following up with clients on past due invoices
Managing accounts payables, including posting vendor invoices and preparing supplier cheques for signing
Reconciling sub-consultant statements on a monthly basis
Banking – processing daily deposits in the banking software
Reconciling credit card expenses
Assisting with disbursement
Reviewing and processing expense reports
Preparation of reports or schedules for year-end audit
Archiving and file storage management
Miscellaneous tasks such as scanning/filing/uploading, etc.
Other tasks as assigned
Qualifications
 2 – 3 years' experience in an accounting department, or post-secondary education (or equivalent)
Advanced computer skills in Microsoft Office, particularly Excel
Exceptional bookkeeping skills
Detail oriented and highly organized
Excellent written and verbal communication skills
Ability to learn quickly with strong time-management skills
Ability to analyze and problem solve
Previous experience in an architectural or engineering firm is an asset
Previous experience with BST Global is an asset
Ability to be discreet, professional, and always maintain confidentiality