By Minwoo Lee , Andrew Keung
October 21, 2021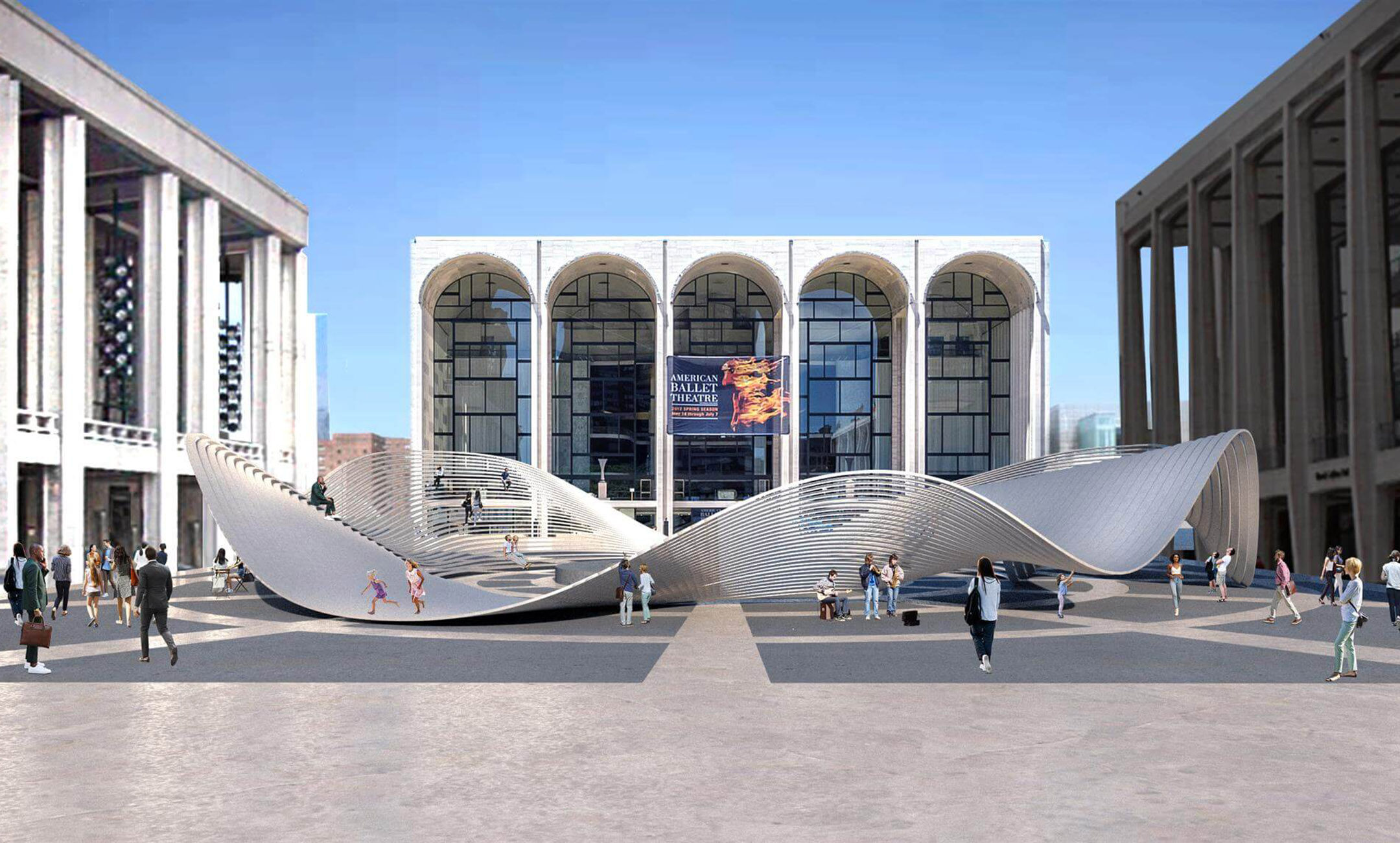 In the fall of 2020, Diamond Schmitt University ran an internal design competition. Teams made up of members from architectural and architectural staff across all offices participated. The teams were challenged to design an outdoor learning pavilion adhering to 2-metre COVID distancing guidelines in a selection of locations across North America.
Four teams were shortlisted by a jury of Principals from Toronto, Vancouver, and New York. The winning team received $250 per teammate and worked with DSU on publishing, fabricating, and developing their concept.
The winning team, comprised of Brian Chen, Minwoo Lee, and Andrew Keung, designed an open-stair theatre at the Josie Roberston Plaza at the Lincoln Center in New York.
Open outdoor spaces have recently become the relief of all inhabitants residing in dense urban environments. The amphitheater is one of the oldest, and arguably the most well-implemented gathering space in urban environments. Open Stair Theatre pays homage to the amphitheater's generosity of seating areas and nests intimate learning spaces with.
Open-Stair Theatre offers a multitude of gathering opportunities in a single outdoor pavilion. The light, playful structure is both a celebration and confrontation of the stark rigidity of Lincoln Center Plaza.
Gently lifted amphitheater seating areas envelop the central foundation and are layered above the physically temperated, yet visually connected, group learning spaces below. To challenge social isolation, yet provide physical distancing opportunities, the multitude of spaces provided serve to create varied environments to engage in learning activities. The wall and roof become a single gesture, unifying the whole of Lincoln Plaza.

"This scheme successfully reflects the type of provocative response that we expect from competitions. With closer inspection it is clear that the scheme goes beyond simple attention-getting form-making.

We recognized that the form is determined by practical considerations of providing sheltered spaces at the perimeter that are countered by the roof form that creates seating oriented to the centre. The imagery and diagrams that support the scheme are at once handsome and informative. The response implicitly advocates for a singular work of beauty in a highly demanding setting."

Jury Comments