Ādisōke tops off and celebrates the completion of floors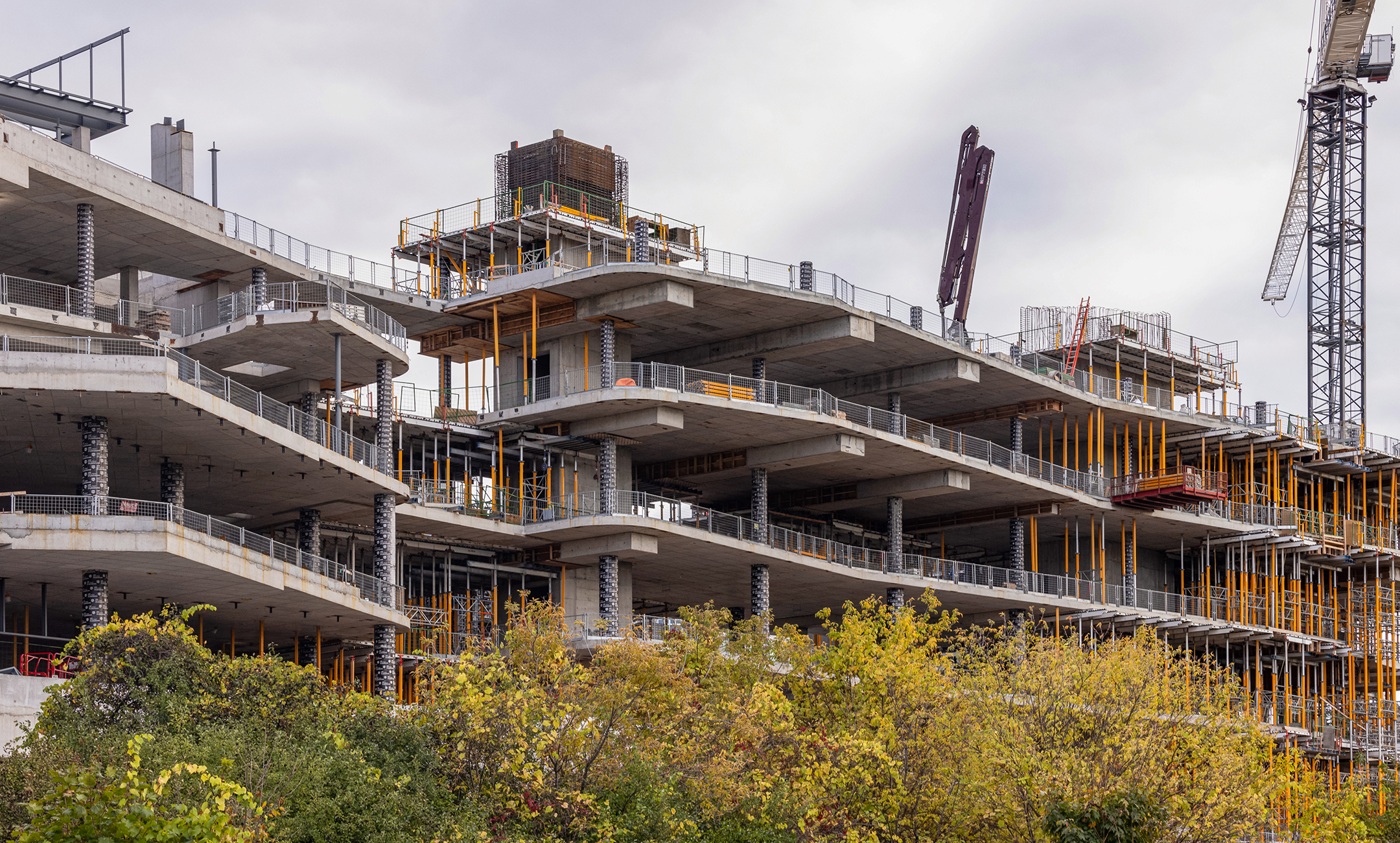 For more information, please contact:
Andrea Chin, Communications Director
Email: achin@dsai.ca
Gary McCluskie, Principal
Email: dschmitt@dsai.ca
Ottawa, ON, October 18, 2023 – City of Ottawa Mayor Mark Sutcliffe, Councillor Matthew Luloff, Chair of the Ottawa Public Library Board, Grand Chief Savanna McGregor, Algonquin Anishinābeg Nation, Chief Greg Sarazin, Algonquins of Pikwakanagan First Nation, and Chief Dylan Whiteduck, Kitigan Zibi Anishinābeg celebrate the completion of the pouring of all five floors, and the "topping off" of Ādisōke, the Ottawa Public Library – Library and Archives Canada joint facility.
Designed by Diamond Schmitt and KWC Architects Inc. in joint venture, Ādisōke will bring together the rich collections of a world-class public library and a national institution under one roof, giving life to the stories and histories that connect us.
With the pouring of the floors now complete, work will begin on the iconic curved roof of the facility. To honour this momentous occasion, the partners each signed a piece of structural steel that will be placed within the facility's interior.
Set to open in 2026, the modern and iconic facility of Ādisōke will become a landmark destination in the Anishinābe Algonquin Nation's territory, in what is now known as the National Capital Region. The site for Ādisōke is located on the unceded, traditional territory of the Anishinābe Algonquin Nation, who have occupied the area since time immemorial. Elders and members of the Host Nation have been key partners in influencing the design of the facility, as well as the selection of the name Ādisōke, which refers to the telling of stories in the Anishinābemowin Algonquin language.
"Today marks a significant milestone for the Ādisōke project as we celebrate and unveil its official branding. The name Ādisōke means 'storytelling' in Anishinābemowin Algonquin language. As its name implies, Ādisōke will be a place where all are welcome, coming together to learn, connect and share stories and histories as its doors open in 2026," said Mayor Mark Sutcliffe, City of Ottawa.
Read the full press release here.