Construction begins on the Atlantic Science Enterprise Centre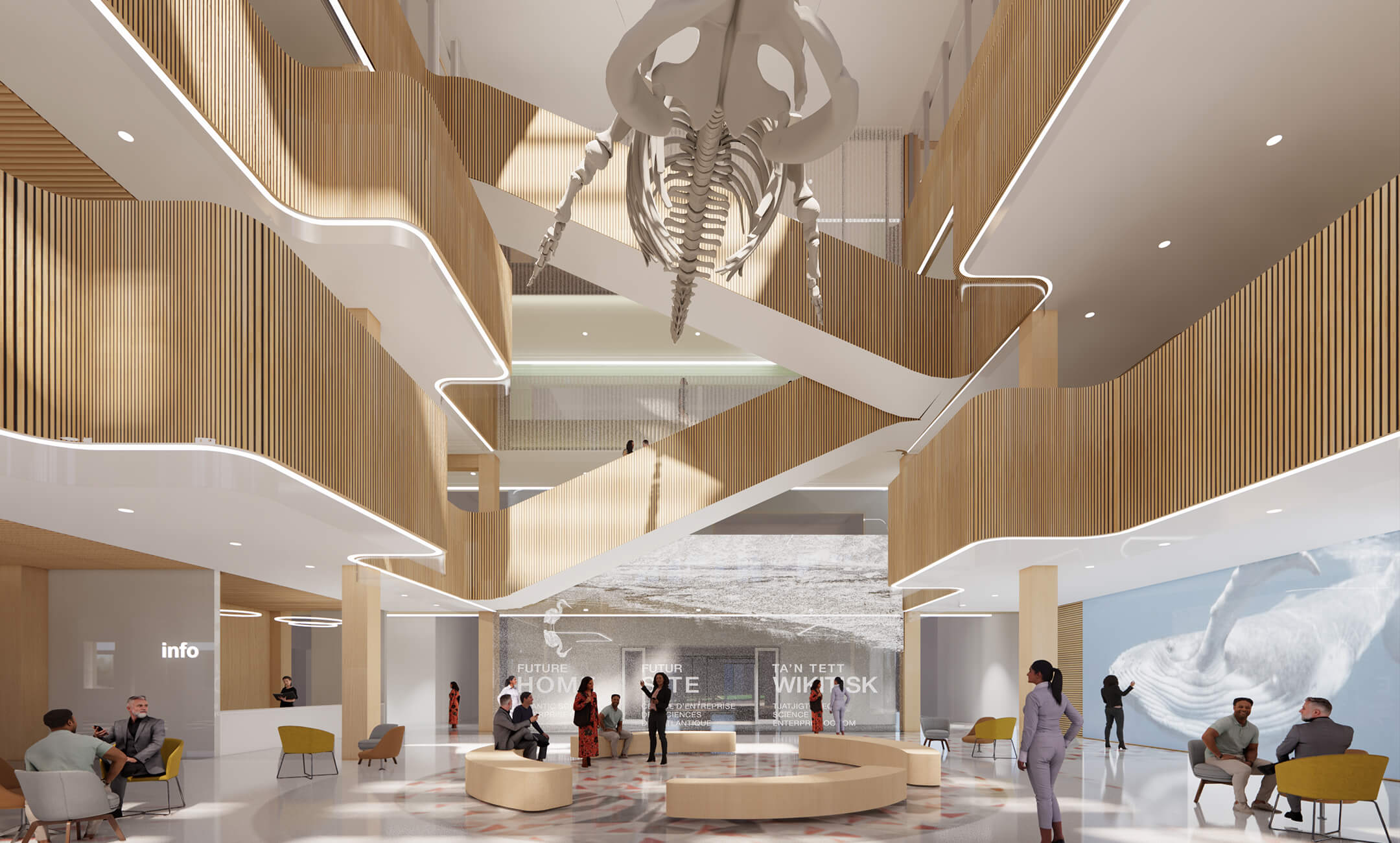 Moncton, NB - The Honourable Dominic LeBlanc, Minister of Intergovernmental Affairs, Infrastructure and Communities, and the Honourable Ginette Petitpas Taylor, Minister of Official Languages and Minister responsible for the Atlantic Canada Opportunities Agency, on behalf of the Honourable Helena Jaczek, Minister of Public Services and Procurement, kicked off the start of major construction activities at the Atlantic Science Enterprise Centre (ASEC) in Moncton by participating in a ceremonial ground breaking and sign unveiling.
Designed by Diamond Schmitt, in association with EXP, the new ASEC facility will bring together multi-departmental research activities that make aquatic science more accessible, providing federal scientists and partners with state-of-the-art space and equipment to collaborate on research opportunities, understand, protect and sustain Atlantic freshwater and coastal ecosystems in Canada.
The new ASEC will occupy the former home of the Collège Notre-Dame-d'Acadie, which will serve as a principal element in Diamond Schmitt's scheme. The design of the new complex will strive to sustain the prominence of the historic façade, and adapt key elements and spaces into the site's new program. Indigenous engagement will also play a key role in informing the design of the building. Led by Mi'kmaq Elder Noel Millea, consultation will seek to create a welcoming space for Indigenous employees and visitors alike, and offer a place that supports the needs of the Indigenous community
The Atlantic Science Enterprise Centre is being built in three phases to allow for the continued use of the existing building during construction. The site preparation work is currently underway as part of the first phase. The construction of the new science wing to the north of the existing building will begin in 2024. When it is fully occupied in 2031, the centre will be equipped with modern laboratory spaces and technology tailored to scientists' needs, as well as offices and work spaces for over 700 employees from four federal organizations, including Fisheries and Oceans Canada, Environment and Climate Change Canada, the Canadian Food Inspection Agency and the National Research Council Canada. The Canadian Space Agency will participate in ASEC as a virtual partner.
Read the full press release here.