Globe and Mail: New residences at McMaster U aim to ease student-housing crunch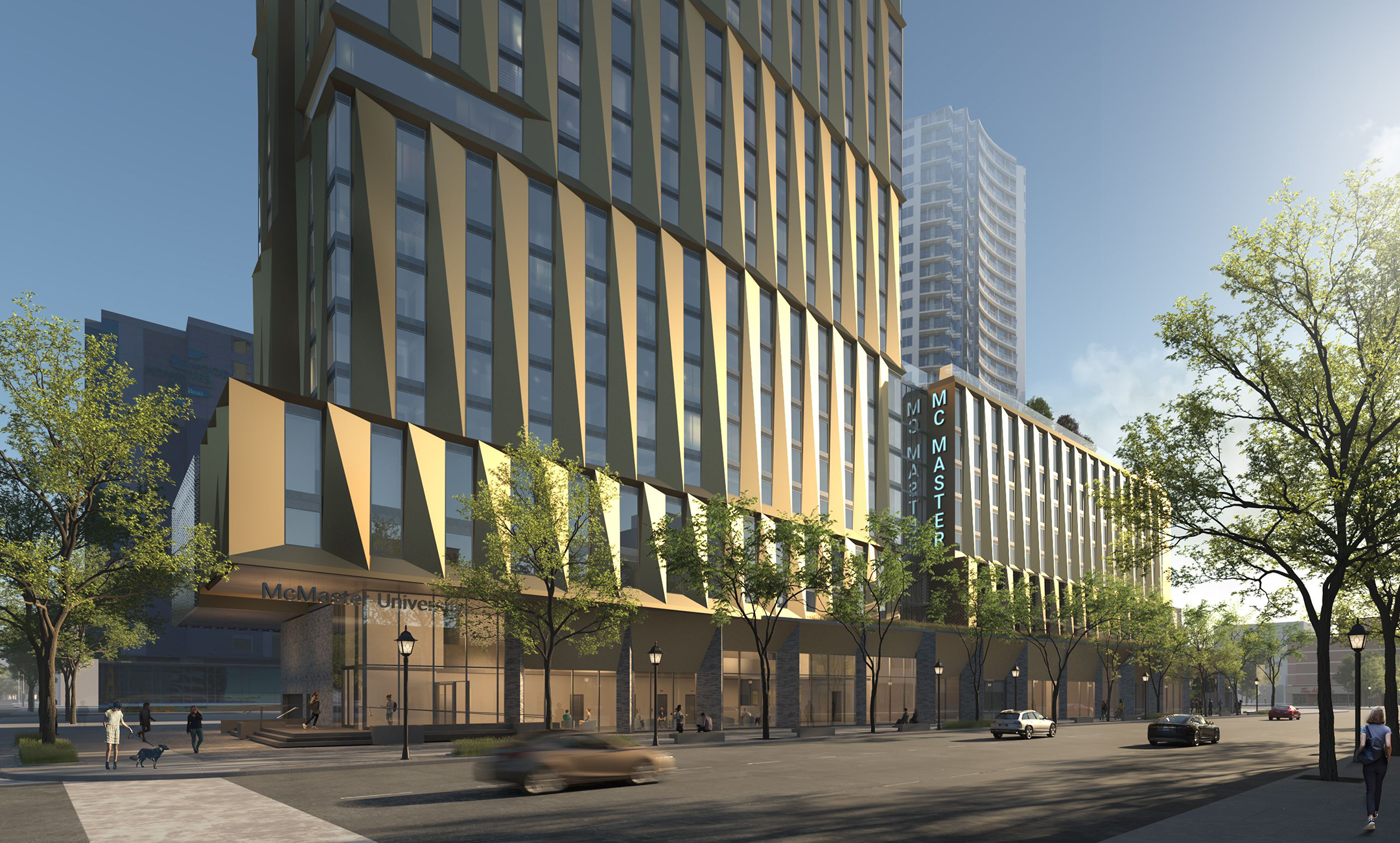 Diamond Schmitt's design of two new student residences at McMaster University have been featured in an article by Mark Keast for The Globe and Mail.

"Running and operating student residences has not always been a core business [of Canadian universities]," says Don Schmitt, principal at Diamond Schmitt. "There's been an opportunity to increase the quality and quantity."
The $100-million, 30-storey building at 10 Bay St., set to open this fall, is a purpose-built academic hub that will be home to more than 600 graduate students and their families.
The residence, which features one- and two-bedroom and studio apartments, is steps from the Art Gallery of Hamilton, City Hall and McMaster's new David Braley Health Sciences Centre.
Amenities in the graduate residence include a fitness centre, a music room, a movie theatre, green roofs, lounge areas, communal kitchens and a rooftop playground.
A second residence for undergrads, Lincoln Alexander Hall, is scheduled to open in 2026. The developer for both projects, which will have LEED Gold Certification, is Toronto-based Knightstone Capital Management Inc.

The $150-million undergrad residence is located on Main Street, close to the city's planned Light Rail Transit Line. Most of the building will be 10 storeys, with a 15-storey tower at the southwest corner.
It will house 1,366 beds, a fitness centre, communal kitchens on every floor, a dining hall, 43 underground car parking spots and 325 long-term bicycle-parking spots.

The McMaster expansion is part of a growing market of quality student-housing projects, modern rental buildings that offer a level of comfort and services beyond the old-style student dormitory.

According to their [McMaster] research, structured residence living for first-year students leads to improved student retention into second year, higher rates of graduation and a better grade point average compared to kids who live off campus in first year.

The university's current student enrolment is around 37,000, of which about 6,000 are first-years; it has 13 residences and 4,000 beds, which are at full capacity. The 500-bed Peter George Centre for Living and Learning, also designed by Diamond Schmitt, was the most recently opened residence in 2019.

Read the full article here.