Manitou a bi Bii daziigae Receives Prairie Design Award of Merit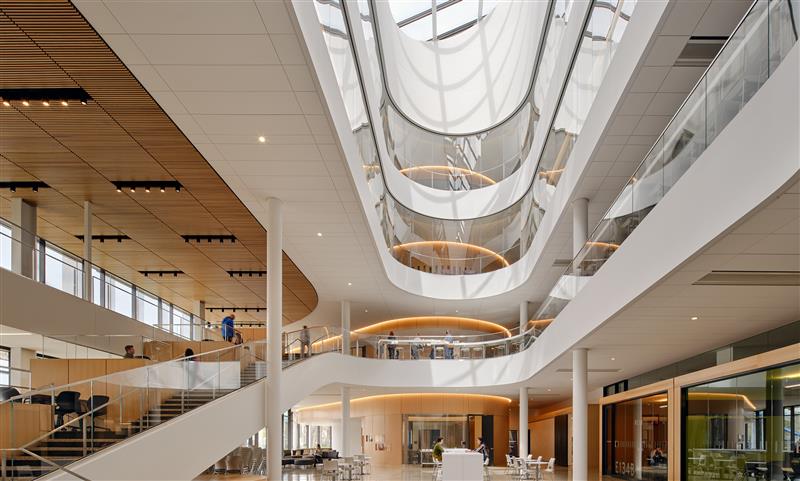 For more information, please contact:
Andrea Chin, Communications Director
Email: achin@dsai.ca
Manitou a bi Bii daziigae has received a Prairie Design Award of Merit.
The Prairie Design Awards is a bi-annual award organized by The Alberta Association of Architects, The Saskatchewan Association of Architects and The Manitoba Association of Architects that celebrates those projects that are setting new standards of creativity and skill in architecture, interior design and landscape architecture. This tri-provincial collaboration has been recognizing design excellence in the prairies since 2000.
Designed in joint venture with Number TEN Architectural Group, Manitou a bi Bii daziigae is a building ensemble conceived as an inclusive learning and research hub for emerging IT industries and consultation with the Red River College community, industry leaders and Indigenous stakeholders. Its ambitious design embraces the principles of connectivity, inclusion and collaboration through the adaptive reuse of a 20,000 sf heritage building and 80,000 sf addition, a skywalk and a student plaza. The project incorporates leading sustainable technologies and energy performance targets, including a Building Integrated Photovoltaic (BIPV) skin that generates more than 75% of the building's required energy, and an expansive skylight that channels daylight through a five-storey atrium to its interior spaces. This project also incorporates Indigenous art and symbolism. A painting by Anishinaabe artist KC Adams covers the soffit area of a projecting cornice and is a welcoming gesture to those who enter the facility.
See the full list of winning projects here.