Senate of Canada Building honoured with Civic Trust Award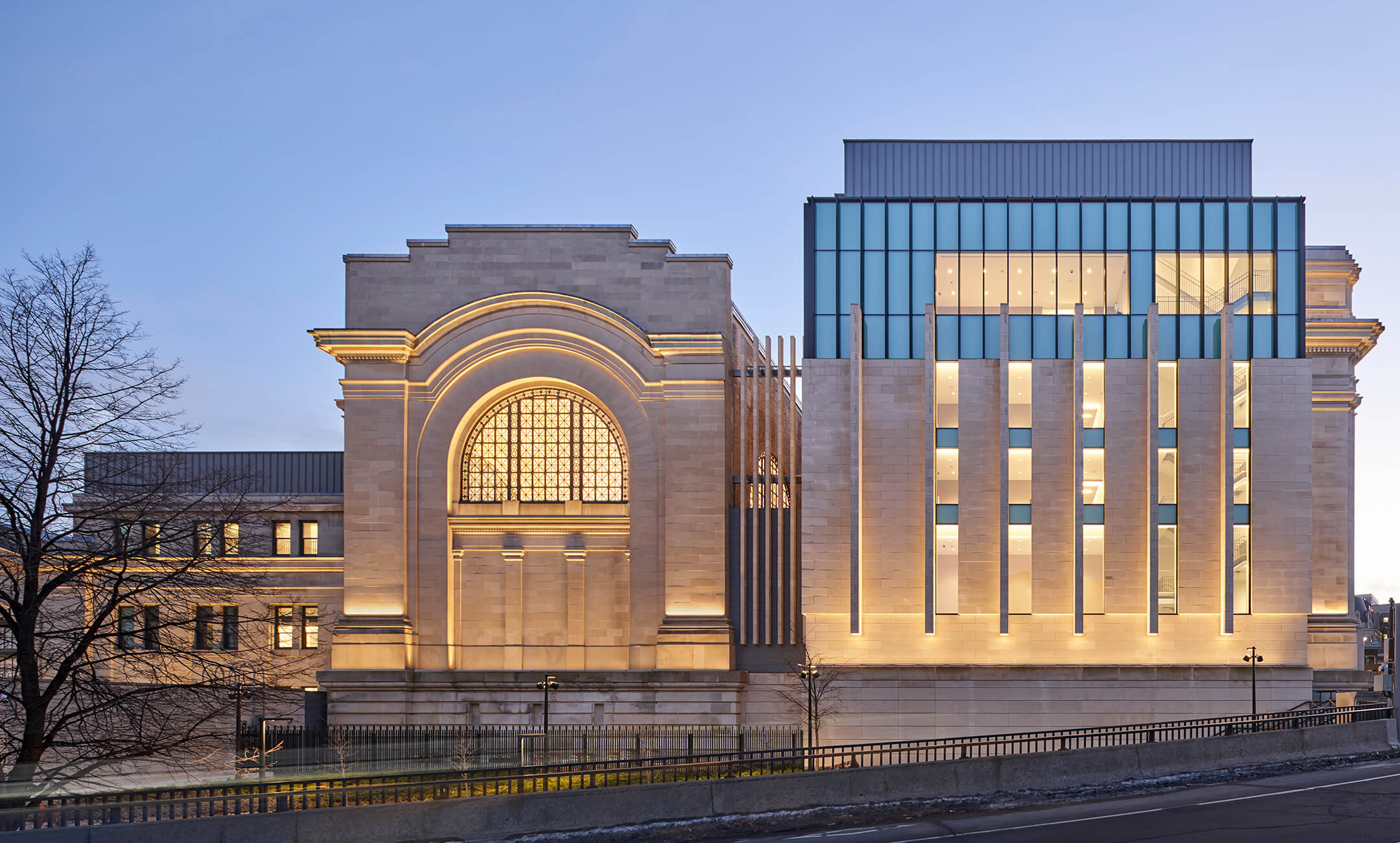 For more information, please contact:
Martin Davidson, Principal
Email: mdavidson@dsai.ca
Phone: +1 416 862 8800 x277
TORONTO – Diamond Schmitt Architects and KWC Architects received the highest recognition from the Civic Trust Award for the Senate of Canada Building at a ceremony in Manchester, UK on Friday.
The award recognizes projects that make an outstanding contribution to the quality and appearance of the built environment. "Award level schemes demonstrate excellence in architecture or design, whilst being sustainable, accessible and provide a positive civic contribution," the program said in a statement. The Senate is one of only two projects from North America to win the award.
The Senate of Canada Building opened in 2019 as the interim home to the upper house of Parliament while Centre Block is refurbished. Ottawa's landmark Beaux-Arts central train station (1912) has been restored, renewed and reimagined to accommodate the Senate with a modern architectural language that both complements and contrasts the celebrated features of the original building.
"A bold re-use of an old building which recognises the gravitas of the original can be repurposed for social and environmental benefit, with a strong identity and a real architectural clarity," remarked the judges in their comments.
"The historic fabric is refurbished and revealed and stands in comfortable juxtaposition with modern interventions. A breath-taking restoration project with highly refined new build intervention which knits into the existing architecture with serious skill," they added.
Formerly the Government Conference Centre, the building required a complete overhaul of major building systems as well as compliance with seismic codes, accessibility, and life safety upgrades. Two committee rooms have been inserted into the monumental and finely detailed General Waiting Room while the Concourse now houses the Senate chamber. Offices and public space are added to a building that had largely been off limits to the public for 50 years.
"This project challenged us to redefine historic spaces in a contemporary way, introduce a new program in a heritage building and convey Canadian identity through contemporary interpretations of our national symbols and iconography. It is an honour to be recognized at an international level with a Civic Trust Award," said Martin Davidson, Principal, Diamond Schmitt Architects.
Diamond Schmitt Architects (www.dsai.ca) has an extensive portfolio of academic facilities, commercial and residential projects as well as recreation and performing arts centres. Current projects include the re-imagination of David Geffen Hall at Lincoln Center in New York and Ottawa's new central library and Library and Archives Canada joint facility.