David Geffen Hall receives Award of Excellence from the Architectural Wood Institute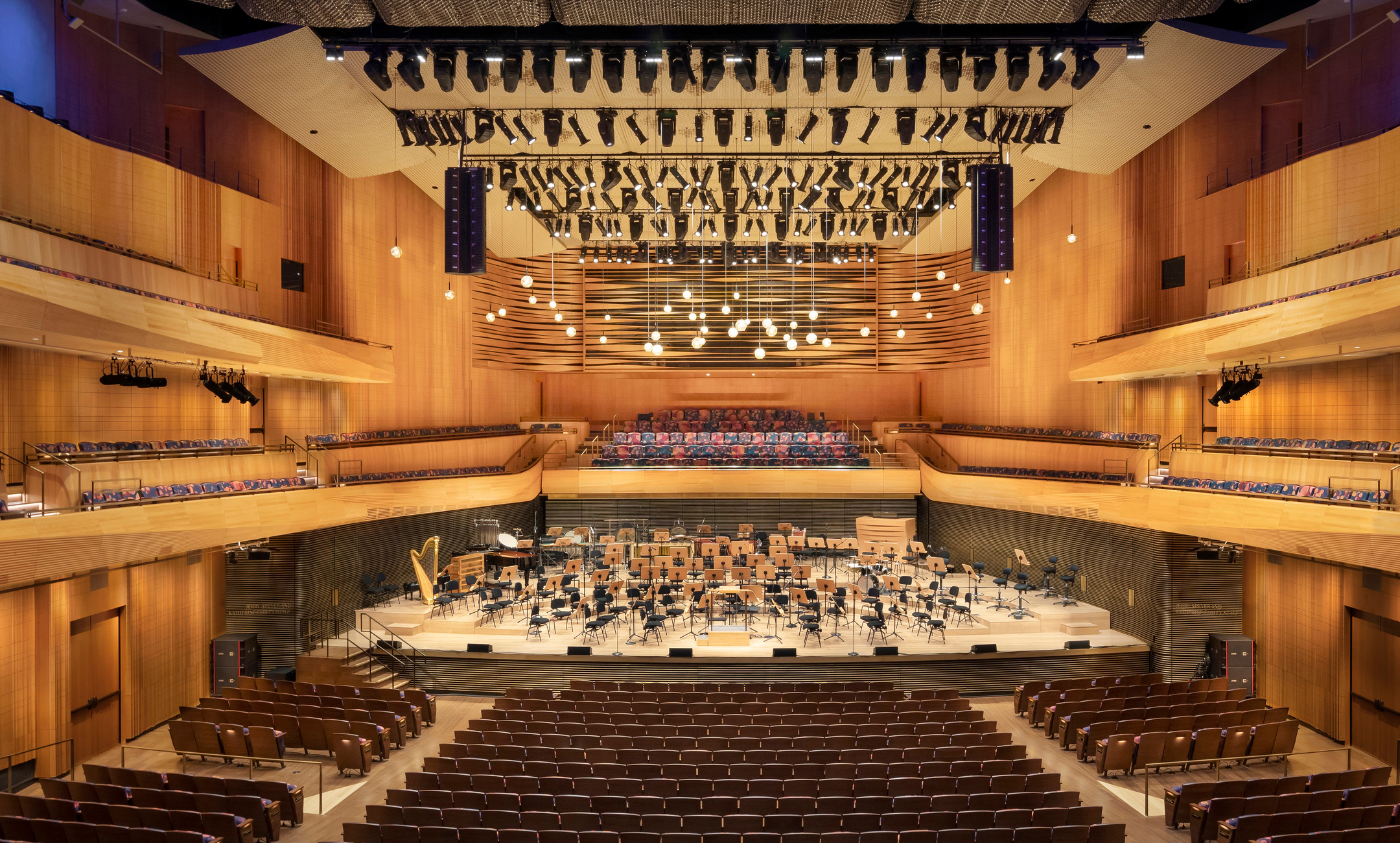 David Geffen Hall's Wu Tsai Theater has been recognized by the Architectural Woodwork Institute (AWI) for its complex and elegant use of European Beech wood. Presented with an Award of Excellence, the AWI acknowledges the finest custom architectural woodwork projects and the efforts of the architects, design professionals, and woodwork manufacturers involved.
"The sculpted, natural design – with textures – reminiscent of sound waves – fosters a warm setting within the space paired with firefly light fixtures that create a luminous focal point above the orchestra," says Architect Mehdi Ghiyaei of Diamond Schmitt. "The shapes we created contribute significantly to the acoustic quality. The sculpted forms also reveal the beauty of the wood's grain and colour. The wood utilized in the theatre defines the space architecturally, essentially giving life to the room."
"For the species, we chose European Beach mainly for the relative calmness of its grain, which the sculpting would exaggerate, and its stability over time and temperature fluctuations," explains Ghiyaei. "It was selected to create a warm, supportive environment for the natural sound of the New York Philharmonic. We chose it for its beauty and because it can be sculpted to reflect sound."
Wood paneling lines the interior of the theatre and surrounds the stage. The finish unites both the musicians and the audience in one space. Because wood is a material used in so many different instruments, it was the right choice to finish from many perspectives. The wall panels, balcony fronts, organ wall, and choral loft are all sculptured and curvilinear, designed to absorb and diffuse sound while being exceptionally beautiful.

The historical references for the use of wood in performance spaces throughout the Lincoln Centre campus were primary considerations for the design," says Martin Semjen, property manager of Lincoln Centre. "Given this and the inherent beauty, flexibility and inherent properties of woodwork as a complement to fine performances made wood a natural choice," he says.
The project consists of a ratio of approximately 50% solids to veneers. Fetzer Architectural Woodwork and Millwork Company fabricated the wood wall panels, balcony fronts/knee walls including structural and ornamental metal elements, stage backdrop including organ wall and choral loft, doors, and hardware.
Read the full article here (p. 26-33).