The New York Times: After Decades, NY Phil's Hall Sounds and Feels More Intimate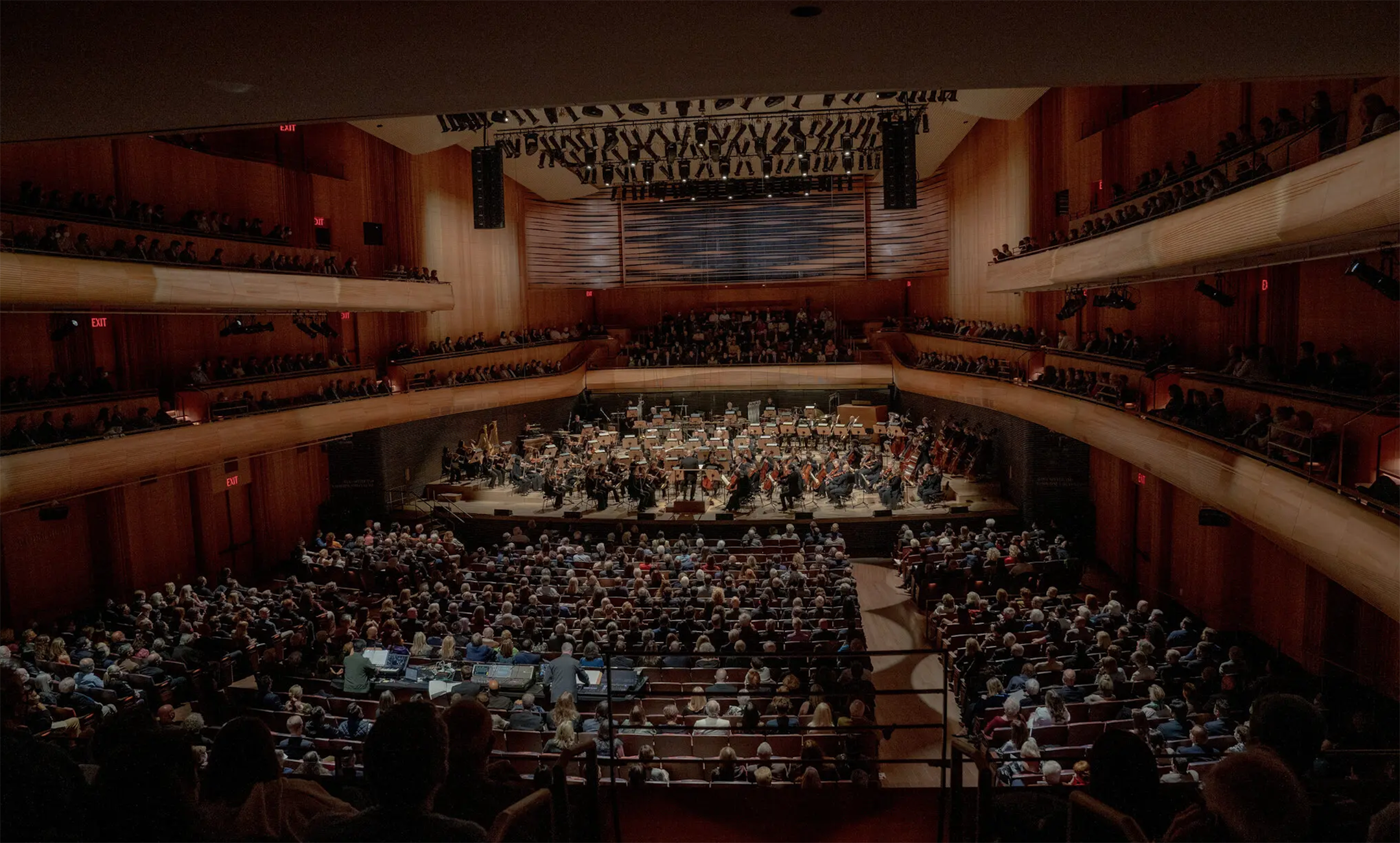 Diamond Schmitt's design of David Geffen Hall is featured in an article by Zachary Woolfe for The New York Times.
Raise your hand if you ever thought you would go see the New York Philharmonic, America's most venerable orchestra, by entering off Lincoln Center's plaza through a wide-open garage door. No one?
But yes: The main entrance of David Geffen Hall — the Philharmonic's home, newly, completely and happily renovated after a wait of decades — is now a big glass wall that can swoop up in good weather. And the past week has been bright and mild in New York. So as audiences drifted in for some of the first concerts in the revamped hall, the lobby inside and the plaza outside have merged, without any barrier.
It's a new degree of informality, matched once you get into the transformed auditorium. The vast, drab shoe box that the city knew as Avery Fisher Hall after 1973 — a few years before a major remodeling attempted to fix the acoustics that had been criticized since the building first opened as Philharmonic Hall, in 1962 — has been gutted.
Five hundred seats have been eliminated, along with the proscenium. The stage has been pulled 25 feet forward, and seating has been stretched around it. The once-dingy interior is now acres of honey-colored wood, the seats upholstered in a floating-flower-petal motif. A theater in which it once felt like miles from the back row to the timpanis now verges on intimacy.
There is intimacy in how it sounds, too. Any judgment on a hall's acoustics is highly provisional after just a few visits. But for the rest of October's opening events — and the rest of this season — I will be listening to the Philharmonic play in the new Geffen, and hearing how the experience changes as I sit all over. The orchestra will be changing, too, adapting to its home the way a player adjusts to a new instrument.
But a mighty improvement is already obvious. The acoustical problems of the hall post-1976 have perhaps been overstated. Especially as it aged, it sounded so bad at least in part because it looked and felt so bad.
Now the sound, like the whole experience of being there, is far more immediate and warm. We hear with our eyes as well as our ears, and simply seeing your fellow audience members sitting above and around the stage makes Geffen sound more human.
Read the full article here.