York University's Markham Campus Tops Out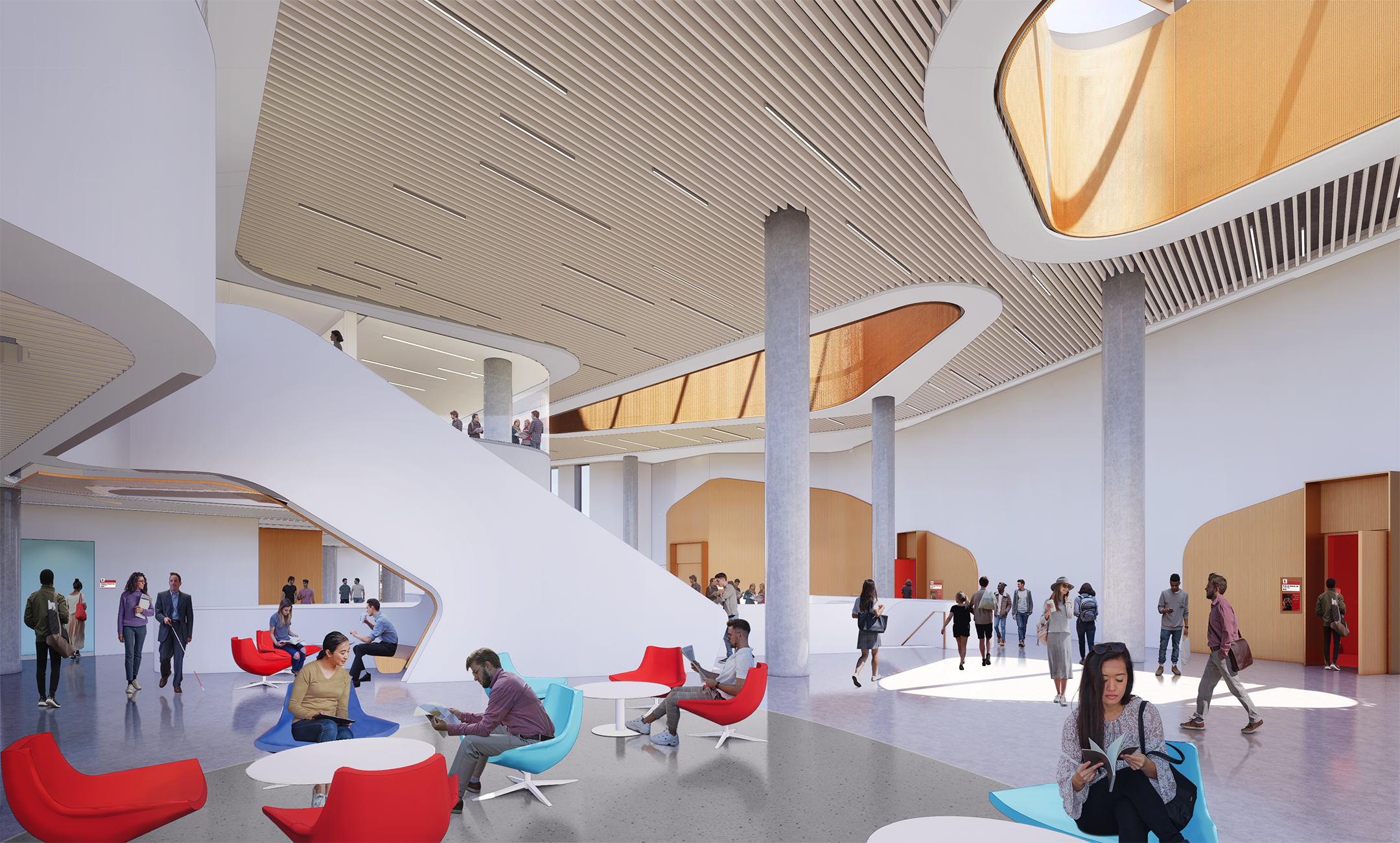 For more information, please contact:
Andrea Chin, Communications Director
Email: achin@dsai.ca
Jessica Cheung, Senior Associate
Email: jcheung@dsai.ca
Toronto, ON, Canada - The President and Vice-Chancellor of York University (York U), Rhonda Lenton, together with dignitaries, University leadership, local community members and philanthropists, have marked an important phase in the building of York U's new Markham Campus (YUMC) with the celebration of its topping out. The milestone was recognized with a ceremonial signing of the final beam which was then lifted and installed by crane – signifying the completion of the building structure and intensified focus on interior work.
Designed by Diamond Schmitt, YUMC is a high-tech, research-intensive campus grounded in core themes of technology and entrepreneurship. The architectural approach for the new academic facility is focused on the principle of connectivity—between YUMC and the city of Markham, between formal and informal spaces, and between all members of the York U community. The building is comprised of ten floors of highly flexible teaching and learning spaces—a series of interconnected areas for gathering and interaction—organized around a dynamic, multi-storey atrium. Common areas are interspersed throughout, offering a variety of zones for students to study, meet, collaborate, and connect with faculty and staff.
Located at University and Enterprise Blvd., the new university campus embeds York U in the heart of one of the most diverse and dynamic urban communities in the province and country. The building envelope alternates vision glass and bronze aluminium panels, maximizing daylight to interior program spaces while optimizing energy performance. Highly visible from the surrounding area, it establishes a strong campus identity within Markham's emerging city-centre district.
YUMC defines a collegial academic community for York University and will be a landmark destination, serving as a catalyst for future growth in the region and an inspiration for the next generation of post-secondary learning.
York University's Markham Campus is set to open in Spring 2024.
Read the full article here and track the project's development via Live Cam.