Diamond Schmitt projects nominated for 2023 Heritage Toronto Awards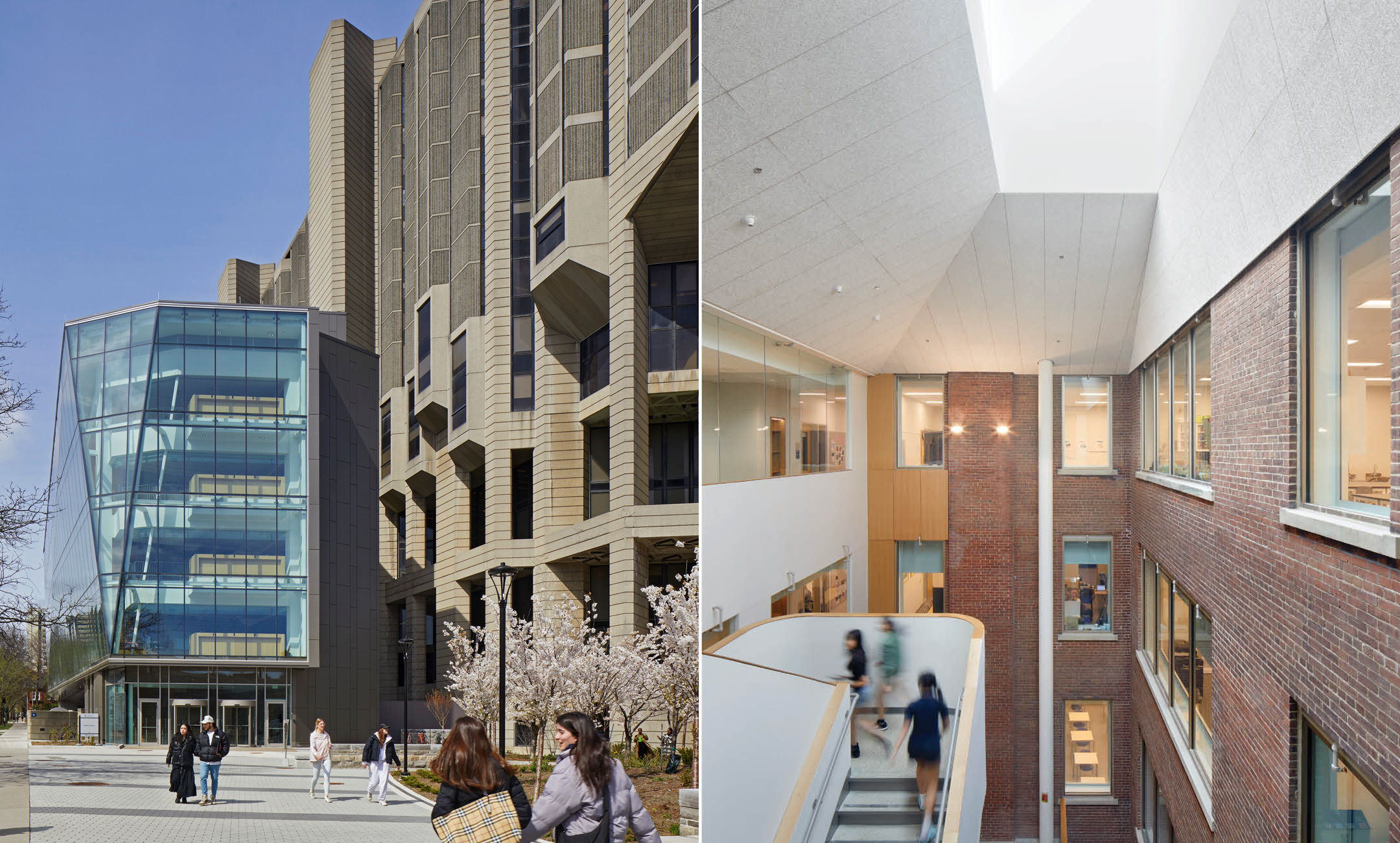 For more information, please contact:
Andrea Chin, Communications Director
Email: achin@dsai.ca
Toronto, ON, September 5, 2023 –Two of Diamond Schmitt's projects have been nominated for a 2023 Heritage Toronto Award. The annual awards recognize building owners who have undertaken projects to conserve or adapt a historic property or architectural feature, and the excellence in conservation practice and craftsmanship performed by the project teams.
Robarts Common has been nominated for a Built Heritage Award in the Crafts and Trades category, for its high levels of craftsmanship, specifically the use of appropriate construction techniques and materials that are compatible with the building's original architectural qualities. Built in 1973 by Mathers & Haldenby Architects and Warner, Burns, Toan and Lunde, the triangular Robarts Library features existing pavilions on two of its three sides. As part of the original design, the west side of the library was intended to have an auditorium above the loading dock, but it was never completed due to budgetary constraints. Almost 50 years later, Robarts Common completes the complex. The addition establishes a transparent counterpoint to the Brutalist expression of the original architecture—a monolithic concrete volume. Its massing draws influences from the triangular geometries of the existing pavilions, as referenced in the glass faceted façade.
University of Toronto Schools (UTS) has been nominated for a Built Heritage Award in the Heritage Planning & Architecture category, which recognizes the application of conservation and planning principles. UTS is a revitalization, grounded in its 110-year history and includes the restoration of the east half of the heritage building, while introducing a brand-new expansion of learning spaces on the south. Situated on a large urban block of the University of Toronto's (UofT) St. George campus, it occupies a three-storey neo-gothic building, designed by Darling and Pearson Architects (1910), who expanded the school with the Huron St. Wing in 1924. The heritage wings have been preserved and rehabilitated to accommodate a myriad of programs, while the latest addition is set back from the street and defers significantly to the heritage features of the existing building. The restoration and expansion retains the heritage features of the existing building, maintaining its integrity and presence as an important institutional landmark along Bloor Street West. 
In recognition of exceptional contributions to Toronto's heritage, the Awards champion excellence in conservation and craft in the city.
The winners of each Building Heritage Award category will be announced on October 30th, 2023.
Read more about the awards here.